4 min read
September 2022
HubSpot may boast an impressive marketing CRM, but chances are you use several software programs in your day-to-day business. However, HubSpot's ability to seamlessly integrate with the tools you love, such as a HubSpot Salesforce integration, allows you to centralize and coordinate everyday tasks between teams and breakthrough data silos.
One massive data silo at almost every major company lies between the CFO and CMO. Though both have the same objective goals–to boost profit/revenue–accountants tend to look at the costs of various initiatives while marketers at growth potential.
One way to break this silo and coordinate data and campaigns together is by sharing the same data through a centralized software program. Thankfully, HubSpot offers several integrations with the world's leading accounting programs, including QuickBooks.
In this guide, we'll explore the features and limitations of undergoing a HubSpot QuickBooks integration to help CMOs and CFOs stay on the same page.
HubSpot QuickBooks Integration Features
Automate QuickBooks processes with

HubSpot CRM Workflows

Create invoices from deal records within HubSpot
Click and view invoice information inside HubSpot
View invoice payments on deal timelines
Sync contacts and products between systems
Improve financial value reporting on contacts
A HubSpot QuickBooks integration allows sales reps to create invoices to send to clients directly from deal records inside HubSpot. As a result, your business will get paid faster, and your sales team will get better insight into the cash flow of converted leads into your organization.
Furthermore, this integration enables team members to view invoice information, record invoice payments on deal timelines, and even automate tasks inside QuickBooks using HubSpot workflows. These workflows include:
Invoice payment reminder
Vendor payment reminder
Unsent invoice reminder
Bank deposit reminder
Accountants benefit from the HubSpot QuickBooks integration by pulling data directly from deal records to help create invoices. Additionally, all invoices sent to QuickBooks advance are sent to its task manager so users inside QuickBooks can assign tasks to sales reps on their end, improving communication between departments.
Ultimately, by coordinating invoice information and data between both programs, teams can improve operational efficiency, reduce time devoted to manual data sharing, and eliminate silos between teams regarding financial information.
Benefits of a HubSpot QuickBooks Integration
Enhanced data sharing
More efficient customer invoicing and servicing
More accurate financial reporting
Reduced need for manual administration of financial invoicing and payment
Streamlines communication between multiple internal teams (knocks down silos)
Increases short-term cash flow (more timely payments)
How to Integrate HubSpot with QuickBooks
HubSpot makes integrating QuickBooks into your HubSpot account incredibly easy. Below is a list of steps to help you install QuickBooks and sync data between your HubSpot and QuickBooks account.
Install QuickBooks in HubSpot
Apps > search bar (QuickBooks online) > Install App > Log in to your QuickBooks account
Available Syncs
A HubSpot QuickBooks integration enables teams to sync several properties inside HubSpot with existing QuickBooks data to get your team up and running.
QuickBooks Contacts > HubSpot Contacts
Integrations > Connected apps > QuickBooks Online > Contacts > Select on
QuickBooks Products > HubSpot Products
Integrations > Connected apps > QuickBooks Online > Products > Select on
QuickBooks Invoice Data > HubSpot Deal Properties
Integrations > Connected apps > QuickBooks Online> Invoices > Select on
HubSpot also offers custom options to edit field mappings and streamline your data sync.
Once your properties are synced, it's time to start using HubSpot to create invoices and workflows inside QuickBooks.
Create a Deal
HubSpot > Sales > Deals > Create an invoice > Next > Add products from QuickBooks > Select payment terms, invoice create date, or invoice due date
Users can set invoices to five stages in HubSpot:
Waiting to be sent
Sent to customer
Partial payment
Paid in full
Overdue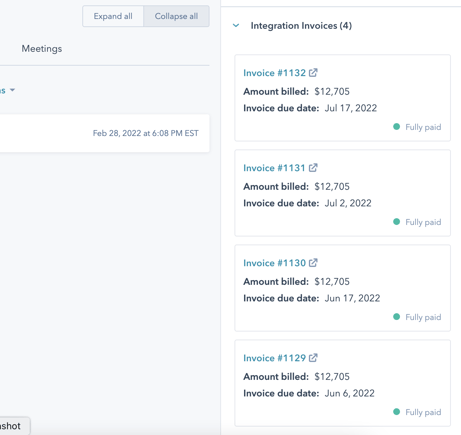 Once set, you'll have successfully created an invoice or set its due date inside HubSpot.
Create a Workflow
Create workflows to follow up with customers who don't pay invoices over email or Slack. Set up properties for your workflow to be attached to a message, including:
Invoice amount billed
Invoice recipient
Invoice number
Invoice status
Invoice due date
These workflows keep your team efficient and ensure you promptly follow up with all existing customers.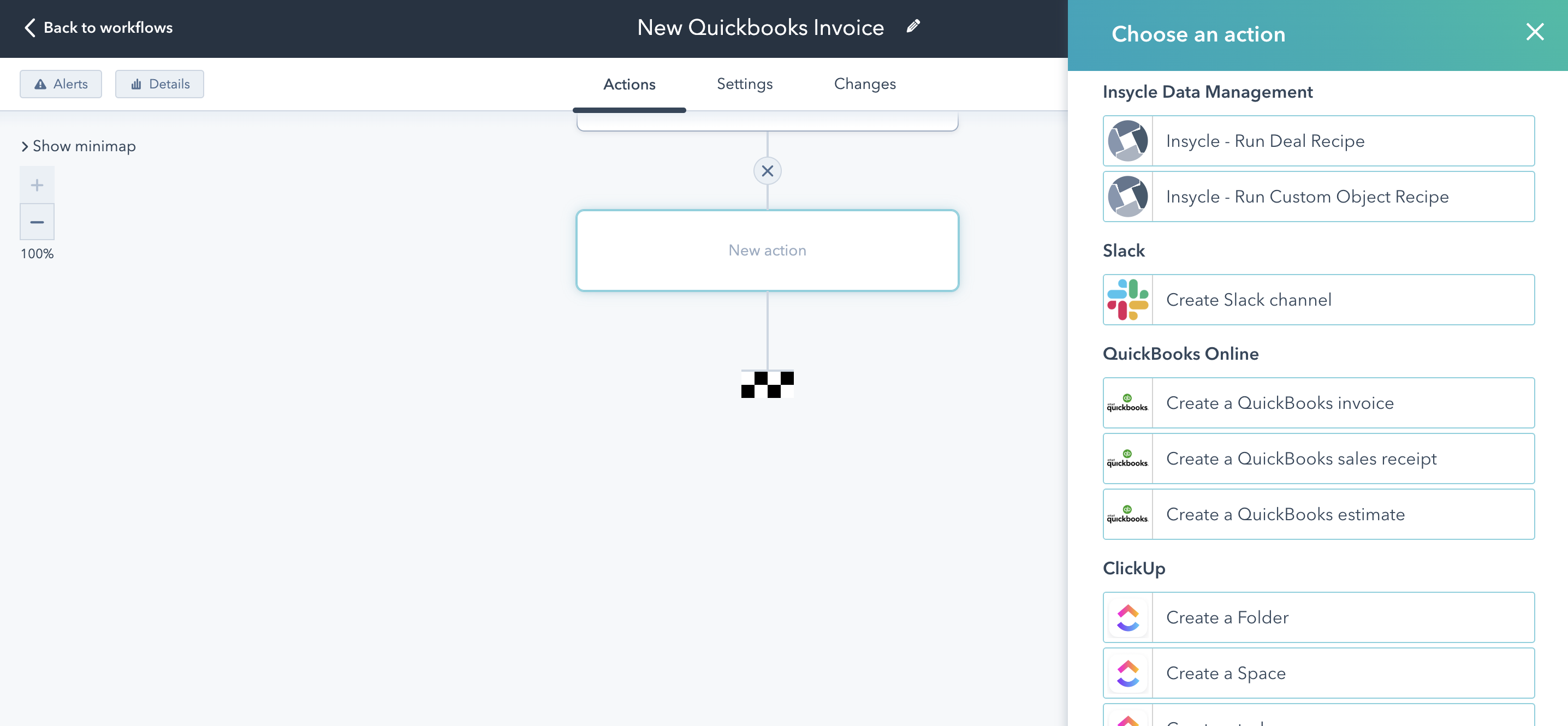 HubSpot QuickBooks Integration Limitations
Unfortunately, the HubSpot QuickBooks integration does pose some limitations, which we list below:
Additional tools are required for two-way sync (HubSpot > QuickBooks).
Old contact records are not synced and need to be inputted manually.
No sync options are available for custom objects.
Invoices are not automatically synced with deals or contacts; they must be manually associated in HubSpot.
While HubSpot enables you to create invoices and set due dates, these invoices must be manually assigned to deals or contacts.
Existing QuickBooks and HubSpot users can benefit greatly from adding the QuickBooks app to their HubSpot library. Once integrated, HubSpot will enable sales and accounting staff to create invoices using deal records and send them directly to clients.
In addition, HubSpot's workflows allow teams to send out automated reminders inside QuickBooks, email, or Slack with tasks to follow up or send out invoices to clients.
Overall, the HubSpot QuickBooks integration is free and straightforward and reduces data silos between teams, making the integration a no-brainer if you already use both programs.
For businesses struggling to manage their HubSpot account, we offer consultation services at Coastal Consulting to help you regain control of your data.
Our HubSpot audit includes over 20 hours of research, sifting through all of your data inside your HubSpot ecosystem to provide insights that will improve your operational efficiency. We also offer help with integration services and free content to help you learn more about using HubSpot.